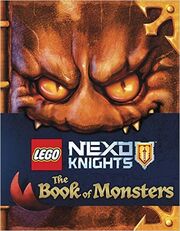 LEGO Nexo Knights: The Book of Monsters
is an upcoming
Nexo Knights
guide book released on February 4,
2016
. It contains 96 pages.
Description
LEGO.com Description
The Book of Monsters is more than just a book - it's filled with monsters and magic, trapped between the pages by the ancient wizard Merlok. Containing everything you need to know to become an evil genius, the book will take young LEGO fans straight into the land of the Nexo Knights. Action-packed, spooky and hilarious, don't miss this chance to learn all about LEGO's newest world! It comes with an exclusive scannable shield to help readers access greater power within the Nexo Knights app.
Gallery
Main article: Category:LEGO Nexo Knights: The Book of Monsters images
Ad blocker interference detected!
Wikia is a free-to-use site that makes money from advertising. We have a modified experience for viewers using ad blockers

Wikia is not accessible if you've made further modifications. Remove the custom ad blocker rule(s) and the page will load as expected.