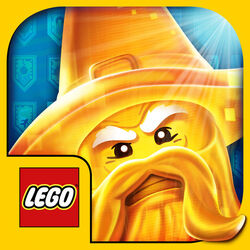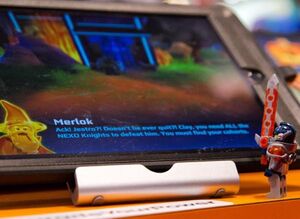 LEGO NEXO KNIGHTS: MERLOK 2.0 App is an app game for Nexo Knights.
Description
To extend the story and increase playing fun, more than 150 unique LEGO NEXO KNIGHTS powers - represented as shields - have been scattered across the kingdom of Knighton. The powers can be found in building sets, online, in print and directly in the television content. Existing in both physical and digital form, children can discover, scan and collect varied powers using the LEGO NEXO KNIGHTS: MERLOK 2.0 app. Once added to a digital power collection, children can creatively and continuously find new ways to join the knights to defeat the enemy, in their gaming experience.
The LEGO NEXO KNIGHTS: MERLOK 2.0 app is available as a free download via App Store, Google Play, Samsung Apps and Amazon Appstore.
Trivia
Gallery
Main article: Category:LEGO NEXO KNIGHTS: MERLOK 2.0 App images
Ad blocker interference detected!
Wikia is a free-to-use site that makes money from advertising. We have a modified experience for viewers using ad blockers

Wikia is not accessible if you've made further modifications. Remove the custom ad blocker rule(s) and the page will load as expected.